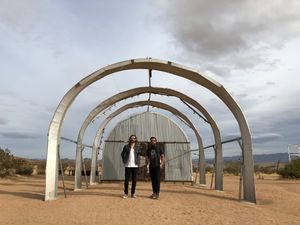 Bio
Paul Givant and Stephen Andrews are The Contraptionists: a two-man, one-man band, a sonic high-wire act driven by percussive precision, soaring, jangling, thumping instrumentation, and bold melodies fused with harmonies. An industrial folk-grunge experiment conceived and crafted in the booming halls of their loft on the edge-of-downtown-Los Angeles in a former factory, they bring fire, heart, and flash to their stage performance. 
Givant and Andrews have played together for almost a decade in Rose's Pawn Shop, releasing three studio albums and touring extensively. The Contraptionists evolved from RPS and takes some of its Americana folk threads, weaving and warping them through a stylized set of musical machines— "contraptions" made from drums, guitar, banjo, harmonica, stand-up bass, and vocal harmonies. 
With technical skill and creative bravado The Contraptionists combine a working man's grit with a rambling man's fervor to create a big, layered sound with just two bodies. The duo make music out of American reflections, the dreams and nightmares seen in a far off motel room's broken television screen. Stylistically and lyrically the music is an alloy of rock and folk elements- murder ballads, road legends, and lovestory songs for the hopeful and broken-hearted.